During time of increased conflict in Israel, a record-breaking $12m is raised at American Friends of Magen David Adom event
October 25, 2015, 11:06 pm
LOS ANGELES — It was an evening to rival any number of Los Angeles red carpet events as The American Friends of Magen David Adom celebrated its third annual Red Star Ball at the Beverly Hilton's International Ballroom on October 22.
Men donned smart suits and tuxedos and women shimmied in tulle, taffeta and silk, many in MDA's signature red and black colors as they sat down to a three-course dinner at the fundraising event.
Celebrity attendees included an Israeli film star making her mark in Hollywood, Odeya Rush, actress Karla Souza ("How to Get Away with Murder"), Michael Richards (who played Kramer on "Seinfeld"), and comedian Jerry Seinfeld, who was the special guest performer of the evening.
A longtime American Red Cross supporter (Magen David Adom is its Israeli affiliate), Seinfeld performed a 30-minute set that comes before his Israeli stand-up debut, with four sold-out shows this December.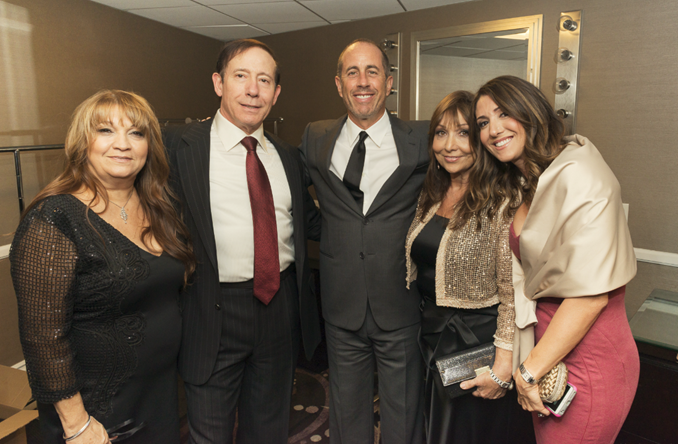 According to a recent Maxim magazine, Seinfeld is the highest paid comedian of 2015. Also a well-known philanthropist, Seinfeld is attached to several charities, including his wife Jessica's Baby Buggy initiative, and has made "surprise" appearances for other foundations, including at a Gregg's Gift comedy night dedicated in the name of Gregg Grossman who died of addiction problems at 27.
But it was the cancellation of a charity appearance that in 2011 sparked a high-profile media row between the comedian and the Donald.
Seinfeld, who has donated to both Democrat and Republican politicians' campaigns, pulled out of an Eric Trump Foundation benefit, to be hosted by father Donald, aiding the St. Jude's Children's Research Hospital because the comic was "increasingly uncomfortable" with the current leading Republican candidate's personal attacks against US President Barack Obama.
It's unlikely Seinfeld would be welcomed at a Trump White House: Back in 2011, as an end-cap to the Trump affair, the star told Extra, "Let me say this about Donald Trump. I love Donald Trump, all comedians love Donald Trump. If God gave comedians the power to invent people, the first person we would invent is Donald Trump… God's gift to comedy."
'All comedians love Donald Trump. If God gave comedians the power to invent people, the first person we would invent is Donald Trump'
At the LA charity ball, following a short film showing Magen David Adom volunteers at work in life-threatening situations, Seinfeld quipped, "I always like to perform after emergency activities are shown with injured people and blood flowing. Perhaps we'll have a little more blood flowing tonight after my show."
But as the video made clear, this wasn't just an evening of glitz and glamour. It was also one of gravitas. AFMDA set a $10 million fundraising target for the night to help Magen David Adom in Israel purchase among other things, new ambulances and emergency medical supplies.
The bar was set high because Magen David Adom relies solely on donations, as the Israeli government does not fund it. By evening's end attendees had donated $12 million (double the amount raised at the 2014 ball) – including a $5 million donation from philanthropists Sheldon and Miriam Adelson. Many of the funds raised will be put toward the building of MDA's national underground blood services center.
The center will eventually house and protect Israel's entire blood supply from terror attacks and natural disasters.
Last year, the event focused on the work done by Magen David Adom during Operation Protective Edge. This year the focus turned to the recent spate of stabbing and shooting attacks around the country and the thousands of Magen David Adom volunteers who risk their lives to save others.
Dina Leeds, who hosted the evening with her husband, Fred, read out a list of sobering statistics, noting that between October 1 and October 20, MDA teams have provided medical treatment for 174 casualties in Israel. Of those, many were treated for shock, 115 were injured, 78 are listed in mild condition, 18 in moderate condition, 11 in severe condition and nine have died. Leeds then went on to name each of the nine individuals that were murdered.
In what has become a tradition of the gala, AFMDA flew out several MDA volunteers and those who have been helped by MDA in Israel. Among them was Hananel Alvo, who several years ago was stabbed on his way to work. Thanks to the life-saving work of MDA paramedics, Alvo survived severe injuries and decided to give back by becoming an MDA paramedic.
The night was also an opportunity to honor several individuals who continue to support Magen David Adom and the State of Israel. Ruth Flinkman-Marandy and Ben Marandy received the Lifetime Achievement Award, while philanthropists Gila and Adam Milstein received the Humanitarian Award. They are the founders of the Adam and Gila Milstein Family Foundation, which supports 80 Jewish and Israeli organizations.
'There is no question that Magen David Adom is the margin between life and death. Make no mistake — there will be more attacks, more rockets will be fired and unfortunately more missiles will be launched'
Israeli-born Milstein said, "Tonight our thoughts and prayers are with our brothers and sisters in Israel who are now facing a wave of terror attacks. Moments like this bring great focus to simple truths. Our support for Magen David Adom means no less than the difference between life and death."
He went on to speak of two recent stabbing victims: a 13-year-old Pisgat Ze'ev boy and the 20-year-old female soldier stabbed in the West Bank just north of Jerusalem. Both, he said, are alive today thanks to the lifesaving efforts of MDA emergency services that were on the scene within minutes.
Ensuring that AFMDA continues its efforts by reaching out to the younger generation, Barak Raviv was honored with the Next Generation Award. A senior vice president and portfolio management director at Morgan Stanley in Los Angeles, Raviv also has his own foundation and recently donated a pediatric examination room at Share Zedek medical center in Jerusalem.
In a short film clip, Raviv said, "But the charity that is closest to my heart is Magen David Adom. Their humanitarian efforts around the globe impressed me and I wanted to be a part of it. I partnered with friends and donated my first ambulance to MDA at the age of 30." He's since donated several more.
Accepting the award, Raviv said, "There is no question that Magen David Adom is the margin between life and death. Make no mistake — there will be more attacks, more rockets will be fired and unfortunately more missiles will be launched. And when we ask ourselves, 'What have we done to help the people of Israel?' you will be able to proudly stand and say, 'I was here. I funded the underground blood center; I helped save lives in Israel.'"
Times of Israel staff contributed to this report.
https://www.milsteinff.org/wp-content/uploads/jerry_seinfield.jpg
543
965
Elena Yacov
https://www.milsteinff.org/wp-content/uploads/2017/05/logo-300x73.png
Elena Yacov
2015-10-26 21:22:30
2019-06-18 15:27:10
Ahead of Tel Aviv shows, Seinfeld headlines Israeli charity ball in LA