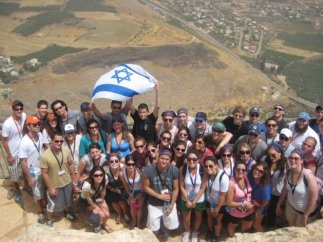 The Mission of The Adam and Gila Milstein Family Foundation ("MFF") is to instill pride and courage in the Jewish People, to strengthen the U.S.- Israel unique alliance, as well as combat bigotry and hatred of all forms in the United States of America.
MFF works to strengthen the Jewish people and their affinity to the State of Israel, the homeland of the Jewish people, by instilling pride in their Jewish identity and fostering courage to stand up and combat our detractors.
We are dedicated to a continued U.S.- Israel special alliance that safeguards our shared values—freedom, human rights, and democracy—and to defeat the common enemies who threaten these values.
MFF builds coalitions that provide Americans with facts and knowledge to advocate and take action effectively against the radical movements that spread hate, bigotry, and discrimination.
The Foundation has an innovative philanthropic philosophy that builds on three (3) unique principles: "Active Philanthropy," "Strategic Advancement" and "Philanthropic Synergy".
Active Philanthropy: the Milstein Family Foundation and its staff invest their time and resources to ensure the impact and success of the specific organizations, existing projects and new initiatives they support and establish.
Strategic Advancement: we support organizations, existing projects and new initiatives that ignite pride and courage and combat bigotry and hatred in a pro-active and strategic way that engages the American public.
Philanthropic Synergy: we connect the resources of philanthropic organizations to amplify the impact and effect of their joint efforts. At the same time, we leverage synergies by bringing non-profit groups to collaborate and make an impact that is greater than their individual efforts combined.