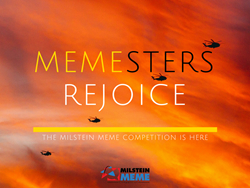 The Milstein Family Foundation will award cash prizes to meme creators who show the fun and funny side of pro-Israel activism by creating entertaining and shareable images.
LOS ANGELES (PRWEB) JULY 27, 2017
The Adam and Gila Milstein Family Foundation will begin accepting submissions to its worldwide competition for the pro-Israel memes on Friday at 6 a.m. Eastern Standard Time. The Milstein Meme Competition will give a chance for hundreds of pro-Israel meme creators to show off their skills and win cash prizes totaling $2,000.
Whether funny, dramatic or poignant, memes are a cultural touchstone for Millennials and Gen Z. The contest will solicit image macros, one of the most popular forms of internet memes, which are images, videos, websites or hashtags that spread virally over social media, often with slight variations. The contest will create a "meme stash"—from classics like lolcats and Bad Luck Brian macros to emerging memes like MS Paint tributes and Snapchat's hotdog filter—for pro-Israel activists.
"This contest is a fun way for us to express our love and support for Israel with wit and levity," philanthropist Adam Milstein said. "Our panelists are the foremost authorities in meme making and sharing. These high school and college students are connoisseurs of memes."
The contest's public voting period will begin on Aug. 3 at 5 a.m. Eastern Standard Time. Each participant can submit up to five memes. The public voting will take the form of Facebook "reacts" — like, love, haha, sad, wow or angry. Both submissions and voting will end on Aug. 14 at midnight Eastern Standard Time.
After the period of public voting, the final winners will be chosen by a panel of 6 college and high school student pro-Israel activists. Cash prizes will be awarded to one first-place winner, two second-place winners, five third-place winners, and 10 runners-up. All of the winners will be announced Aug. 17.
"This is a contest that will reward people with two great qualities: a sense of humor and a love of Israel," said Tamar Lyons, a junior at Ryerson University and the president of her school's chapter of Students Supporting Israel. "Promoting a cause through memes is a great way to reach people in a fast and fun way. My friends and I are always making and sharing memes, so I am very excited to judge this contest and see what people come up with."
The Milstein Family Foundation partnered with more than a dozen Jewish and pro-Israel organizations to sponsor the contest. To sign up or vote, go to http://www.milsteinmemes.org.
About the Adam and Gila Milstein Family Foundation: The MFF works to safeguard and strengthen the Jewish People and the Jewish State by igniting Jewish pride in the next generation, providing pro-Israel Americans with knowledge and expertise to advocate for the State of Israel, and bolstering the critical U.S.-Israel Alliance. Learn more at:http://milsteinff.org/