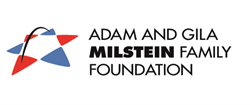 LOS ANGELES (PRWEB) DECEMBER 18, 2017
The Adam and Gila Milstein Family Foundation today announced the winners of their second competition for the pro-Israel memes. The Milstein Meme Competition brought together hundreds of meme-lovers from around the world – from U.S. and Israel, to Egypt and South Africa, to Germany, Romania, Kenya, and Denmark.
The winners included several memes that emphasized the love and pride of Jewish people in their eternal homeland, the state of Israel, such as the 2nd Prize Winner, Eric Fihman, whose Wonder Woman meme connected celebrity Gal Gadot to the "wonder of Israel," the Capital City of Jerusalem.
Others emphasized the hypocrisy of Israel's critics, including 1st Prize Winner Justin Feldman's meme about Linda Sarsour and 2nd Prize Winner Elad Pereg's meme highlighting the absurdity of describing Jews as colonialists in Israel.
"We received a wide range of unique and creative memes, which were funny, entertaining and often moving," philanthropreneur Adam Milstein said. "This is only the second meme competition, but I am really impressed with the quality and quantity of memes we received, which are now available as a resource to be shared on the social media channels of our partner organizations and for the entire pro-Israel community. Our foundation is proud to initiate projects like this that encourage 'out-of-the-box' thinking, and bring together Israel advocates around the world."
The contest opened to submissions on Nov. 27, the voting period began Dec. 1 and both submissions and voting closed on Dec. 8. Each participant was allowed to submit up to three memes, and the public voted on memes by clicking Facebook "reacts" — like, love, haha, sad, wow or angry.
The final winners were chosen by a panel of several star pro-Israel college and high school student activists that were hand-picked by our partner organizations. A total of $2,000 was awarded to the 18 contest winners, which received the highest number of votes, and won because they were deemed to be the most creative and original memes by the judging panel.
The Milstein Family Foundation partnered with 18 Jewish and pro-Israel organizations to sponsor the contest. To see all the submitted memes, go to http://www.milsteinmemes.org.
About the Adam and Gila Milstein Family Foundation: The MFF works to safeguard and strengthen the Jewish People and the Jewish State by igniting Jewish pride in the next generation, providing pro-Israel Americans with knowledge and expertise to advocate for the State of Israel, and bolstering the critical U.S.-Israel Alliance. Learn more at: http://milsteinff.org/