Milstein Foundation Campus Allies Mission to Israel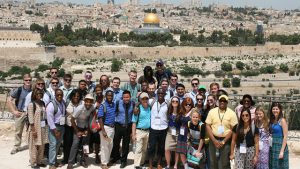 The Milstein Foundation Campus Allies Mission, which is open only to those who have not been to Israel and are not eligible for Birthright Israel, is designed for pro-Israel political activists and student leaders who are non-Jewish. Participants experienced the land of the Bible, gained a deeper understanding of the strategic and social issues facing Israel today, and examined the challenges and opportunities associated with the U.S.-Israel alliance.
Here's what the students had to say of the trip:
"I'm grateful for this opportunity to learn more about this country so that I can continue my Pro-Israel advocacy efforts. These past few days have given me a clearer view also of the impact that AIPAC is making on the lives of so many people directly and indirectly."
"I cannot truly put into words the gratitude I feel for having been given this opportunity. AIPAC has created a strong ally for Israel, even more so than before I came. I leave armed with the tools, knowledge, and experiences to inspire my own community to love the State of Israel."
"This trip has extended my knowledge of the issues surrounding Israel while putting me in a position to be able to participate in productive dialogues with other exceptional student leaders in order to share ideas and receive feedback."
"Every person we have met—be they Jewish, Muslim, Christian, secular, or what have you—has been warm and welcoming. In a country with walls that starkly divide the people of it, I have, in many ways, felt more connected to all of humanity. Listening to the many stories of the people that inhabit this land, I have felt a sense of hope and inclusion, not exclusion."
http://www.aipac.org/connect/students/milstein-family-foundation-campus-allies-mission-to-israel