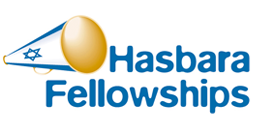 Milstein Coalition Building Grants in collaboration with Hasbara Fellowships are approved up to $1,000.
The Milstein Coalition Building Grant is provided for pro-Israel students to build bridges with various cultural and political groups on campus. Examples include: Political Clubs (Student Government, College Republicans & College Democrats), Single-Issue Clubs (Business Fraternity, Environmental Club), Cultural Club (African Americans, Latino-Americans, Christians United for Israel) as well as Fraternities and Sororities. The Milstein Coalition Building Grant is generously provided by the Adam and Gila Milstein Family Foundation.
Grant Guidelines
Grant requests will be evaluated by Hasbara Fellowships.
Grants will be issued by Hasbara Fellowships as reimbursements. A check will be sent to the individual only after having received the proper documentation.
To receive your grant you must submit pictures, a short blog (click here for the blog guidelines), receipts, and a sign in sheet typed up in excel format. All requirements must be submitted through the Grant Reimbursment Form no later than 3 weeks after the event/program.
Grant requests MUST be submitted at least two weeks prior to the proposed event date. Late submissions may not be considered.
If a previously approved event or program appears to be counterproductive to Hasbara Fellowships or the nature of the program has changed, Hasbara Fellowships reserves the right to revoke the funding.